Strategy Consultant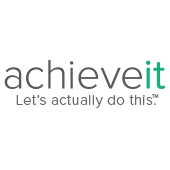 AchieveIt
Administration
Atlanta, GA, USA
Posted on Thursday, May 4, 2023
Description
AchieveIt works every day to help our customers execute their strategies and initiatives and gather actionable insights to grow their businesses. Customer Engagement is imperative to our long-term profitability, and our success is dependent on our ability to deliver extraordinary value to our customers. Our team is responsible for the retention and growth of customer relationships, starting with the implementation process and continuing through customer education and long-term support.

AchieveIt is looking for an applicant who is a team player with initiative and the desire to help the team grow and mature.

The Right Candidate Has:
A Passion for Planning - The ideal candidate needs to be someone who's innately fascinated by the inner workings of various organizations. If you see a strategic plan, you immediately begin to dissect its contents and compare see how it can be improved.

A Passion for Software - You'll need to become a Subject Matter Expert (SME) on the AchieveIt software. Not just an understanding of how the software works, but how it operates in the real world.

Sales Skills - In this role you'll work with closely with the sales team to assist in complex sales opportunities to help demonstrate of value proposition and ultimately shorten the sales cycle.

Implementation Experience - You'll need to be comfortable with being the tip of the spear in the client relationship and this all centers around flawless implementations. When onsite with a customer, you'll need to be comfortable conducting various training sessions, workshops, pre-work, and debriefs.
Great Presentation Skills - To be successful in this role you'll lead AchieveIt clients through a series of onsite workshops and training sessions that are critical to the AchieveIt value proposition.
Requirements
5+ years of client facing experience preferably within a SaaS company
2+ years working in a strategy role - preferably execution of organizational strategy
Experience implementing a SaaS product in highly-matrixed environments
Ability to present with ease to large groups in person and through web meetings
Comfortable with and actually embrace change
An inherent interest to better understand how organizations plan for the future
Ability to jump right in and start building strong relationships with customers
Ability to switch tasks quickly to address customer needs
Masters Degree preferred
Travel up to 50% depending on client workload
US citizen or permanent resident desired
Benefits
What we do
Our mission is to empower organizations to achieve world-class execution on their most important initiatives. Our team is dedicated to building solutions that give leaders the cross-plan visibility they need to see what's working and where they need to pivot to grow their business faster and farther. We are innovators, strategizers, thinkers, builders, get-stuff-doners, learners, competitors, and pioneers. We are a group of Achievers who are passionate about results.
Our beliefs drive our culture

We believe in hiring great people and investing in their success.
We believe in work-life balance. What good is investing in your people if you burn them out?
We believe that all team members are equal. All opinions matter. Kindness matters. Humility matters. Honesty matters.
We believe in a meritocracy for ideas. The best solutions are found through healthy debate.
What we offer
100% work from home
Base salary plus variable compensation based on team performance
15 vacation days (5 additional days at two years of service)
Up to 32 paid holidays (8 standard, 2 floating, and 22 additional company holidays)
Unlimited sick days (sick days do not count against PTO and include things like dentist visits and regular checkups – we want you to invest in staying healthy)
401K (with matching), Medical, Vision, Life and Dental insurance
Short-term and long-term disability insurance
Community events (team building, company parties, etc)
Don't take our word for it
Inc. Best Workplaces 2023
4.5 Glassdoor Rating - 92% would recommend us to a friend
4.5 out of 5.0 rating on G2, 4.7 out of 5.0 rating on Capterra